(NEW YORK, NY, Feb. 11, 2015) – A prominent national Muslim organzation and social media bloggers are strongly condemning the brutal slaying of 3 Muslim college students in North Carolina.
The Islamic Circle of North America (ICNA) issued a press release today expressing their outrage and extending its deepest condolences to the families of three Muslim students who were shot and killed execution style in Chapel Hill.

"Our hearts go out to the families and friends of those who have been killed in such a senseless, abhorrent crime. This goes to show that savagery and hatred knows no religion, no culture, and no skin color," said Naeem Baig, President of ICNA.
Yusor Mohammad, 21, her husband Deah Shaddy Barakat, 23, and her sister Razan Mohammad AbuSalha, 19 were shot at the North Carolina State University parking lot. Deah was a second-year dentistry student; his wife was planning on starting there in the fall, while her sister was a student at North Carolina State University.
They were newlyweds with aspirations and plans for their lives; instead they have been killed by a man who openly spewed anti-Muslim rhetoric online.
The incident sparked widespread outrage on social media network Twitter, and the hashtag #ChapelHillShooting was trending across the US and around the world.
Several users circulated images of the smiling victims using the hashtag, while others called for more extensive media coverage. Others speculated the murders were a "hate crime". A separate hashtag #MuslimLivesMatter began trending on Wednesday.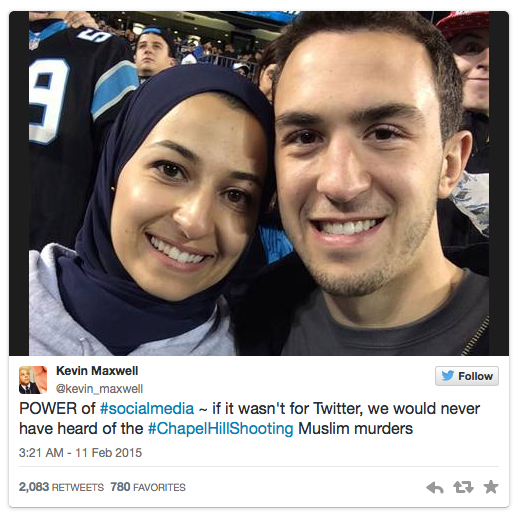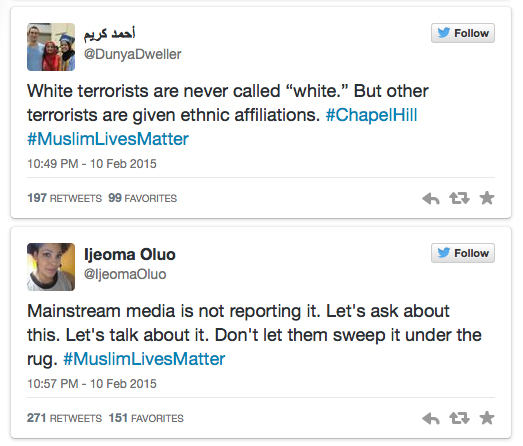 ICNA has called on state and federal law enforcement to do a thorough investigation of what they called a "heinous crime."
"Terrorism knows no religion, no skin color, and has no ethnic creed," said Baig. "We urge all people of conscious to continue to keep Deah, Yusor, Razan, and their families and friends in your thoughts and prayers."